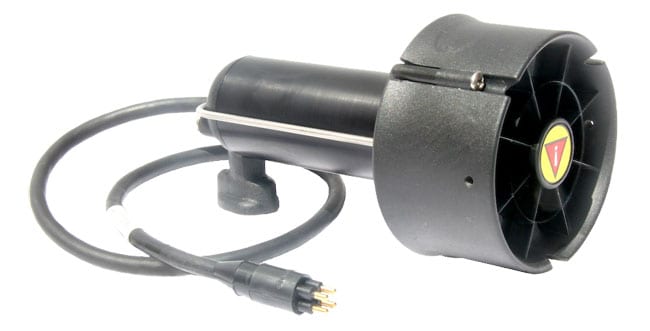 Innerspace Thrusters has been trusted for years to provide the best choice for ROV Thrusters. For the past 100+ years, we have assisted with many commercial projects hands on. In fact, Innerspace is one of the first to manufacture successful brushless DC motors for ROVs and AUVs.
We offer a variation from the standard thrusters out in the market. You can use our thrusters on projects for your ROVs and AUVs. Our dependable thrusters have been proven to be highly popular in all markets.
The Strength Of Our Thrusters
Innerspace's thruster modules or propellers are the strength behind the ROV systems and give you total control at depth and in current. The thrusters are built and designed fully by Innerspace to be modular when it comes to design and interoperable on an underwater ROV. Each ROV is powered by several vertical and horizontal thruster modules. The vertical thrusters are mounted at such a degree angle to allow for lateral movement of ROV.
Powerful Yet Robust
Our main thruster is extremely powerful, yet very sturdy. Of course your new thruster will take some setting up, but we can assist with that process.
What Makes A Good ROV Thruster?
1. A high voltage range is important
2. An efficient brushless motor with a decent gear ratio
3. A nozzle which is engineered for maximum thrust
4. A propeller that generates at least 15 lbs of thrust from 25 to 50 volts
5. Reliable thruster design which requires only little maintenance
6. A propeller which works well in reverse and forward thrust
Why Our ROV Thrusters Are The Best In The Market
Another benefit of our thrusters is its ability to a zero turning point radius and highly agile maneuvering. This is exactly what you want in a thrusters, to be powerful and responsive.
Our thrusters are excellent for all ROV or UROV commercial vehicles. We work with many customers in different fields, from hobbyists to government contracts.
If you are a business owner or an educational facility, you may qualify for a special discount of any of our ROV thrusters. Call us today to inquire about a quote.